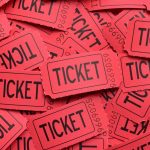 When I was about six years old, (I'm 94 now), the Ritz Theater held a contest for a new car, which my dad wanted to win. Though be bought tickets for two or three nights, he decided not to go to the final night.
But I had other ideas. "Oh Daddy, please let's go. Please, please!"
So, he got his ticket, and off we went. And wouldn't you know, he won that car! I'm not sure what kind it was--possibly a Ford. I do remember that it was a beautiful, full-size brand-new car! We drove it home to show my mother and picked her up and went to show my brother. When we got in to leave, the car wouldn't start! My brother had to crank it up to get it to go.
After that, it didn't have any problems, and my dad drove that car for years.
Ollie Fortson Hunter Forbes
1930s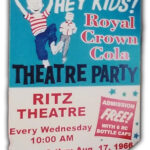 WONDERFUL TOWN OF SANFORD
We moved here in the mid-50s and our family started going to The Ritz immediately. I remember watching World War II movies like Bridge on the River Kwai with my Dad Chester, who was a Pearl Harbor Survivor. But here are my two most vivid memories were.
Being a kid in the late 50s, riding my bike a couple miles Downtown to the Ritz with my sister Carol and brother Jay on early Wednesday mornings during School vacation days, after we had each scoured the neighborhood to collect 6 bottle caps for free entry to the weekly movies. It seemed like every kid you knew from School was there, plus you met kids from other parts of town. The cartoons and Cowboy or Adventure movies were great fun to watch in a packed house, full of kids just like you.
Coming of age as a teenager in the early 60s, and having The Ritz as a place to meet the Junior High girl of your dreams. Lots of first kisses and holding-hands were ingrained in our memories there forever, while watching horror movies, the beach-blanket films made in South Florida, and best of all, the first James Bond movies. Finally, none of us guys who had the voracious appetites of young teenage boys back then can forget the Ritz Concession Stand. We were deliciously satisfied by the great Movie Popcorn, Cokes, and the Ritz' unforgettably soft, hot French Fries.
There are so many reasons why growing up in the 50s and 60s in the wonderful town of Sanford was the luckiest break of all for so many of us Baby Boomers. You can put The Ritz Theater up there with some of the very best reasons. It was the perfect local place to say…. "Let's go to the Movies!"
Lamar Oxford
1950s - 1960s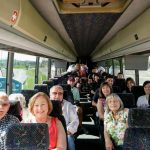 OLD CHARM AND CHARACTER
Being from Philadelphia, I was accustomed to going to the many theaters in New York and Philadelphia. It was a part of my life since a little girl. Moving to Florida in 2004 I wanted to go back to the theater but to the smaller and older venues. That is what I especially like about the Ritz Theater. It has that old charm and character, the stage is smaller and no matter where you sit, you always have a great seat.
As a owner of a travel agency, I do many local bus trips and we always come back to this wonderful theater. When I first started bringing groups, the name of this venue was the Wayne Densch Performing Art Center and over the past few years their name changed.
My customers love coming here for the same reasons I do. The variety of live shows plus the tribute shows are great. Pricing is very good and by supporting a smaller theater like the Ritz a person is helping the community grow and many small business in the area. You are also helping younger performers get their start and who knows maybe someday their dreams will come true. They might be performing on Broadway or with a traveling company.
Happy 100th Anniversary to this wonderful theater called the Ritz Theater.
Carol Cane, Carol's Travel, 2000s