Disney and Cameron Mackintosh's Mary Poppins
A Ritz Theater Theatrical Production
October 6, 7, 13, 14 at 7:30 PM, October 8, 15 at 3 PM, October 14 at 2 PM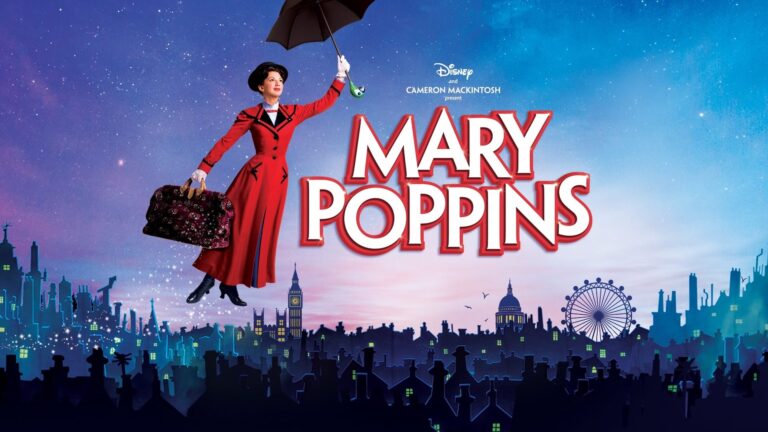 Directed by Billy B Williamson
Everyone's favorite practically perfect nanny takes the stage in this Supercalifragilisticexpialidocious musical adventure. The jack-of-all trades, Bert, introduces us to England in 1910 and the troubled Banks family. Young Jane and Michael have sent many a nanny packing before Mary Poppins arrives on their doorstep. Using a combination of magic and common sense, she must teach the family members how to value each other again. Mary Poppins is an enchanting mixture of irresistible story, unforgettable songs, breathtaking dance numbers, and astonishing stagecraft. A Music Theatre International production. Sponsored in part by the State of Florida, Department of State, Division of Arts & Culture, and by the Florida Council on Arts and Culture.
Mary Poppins- Natalie Hightower
Bert- Kip LeBlanc
George Banks- Carson Kreitner
Winifred Banks- Alexa Villanueva
Jane Banks- Callie Herren
Michael Banks- Parker Williams
Jane/Michael Understudy- Lynnea Massaro
Mrs. Brill- Cristina Sanchez
Robertson Ay- Tim Conyers

ACTING ROLES
Katie Nanna- Layla Morgan
Policeman- Tianna Richardson
Miss Lark- Rebecca Coveney
Admiral Boom- Billy the conductor
Park Keeper- Patrick Cunningham
Miss Smythe (U/S Bird Woman)- Shannon Ricks

SINGING ROLES
Bird Woman (U/S Mary Poppins)- Ariah Todriff
Miss Andrew- Samm Carroll
Mrs. Corry- Raquel Nigra
Bank Chairman- Patrick Cunningham
Von Hussler- Renee Montgomery
Northbrook- Madison Kennedy
Valentine- Sasha Paymer

DANCING ROLES
Neleus (U/S Winifred)- Kerry O'Connor

VARIOUS
Queen Victoria- Mae Ashby
Teddy Bear- Courtney St. John
Mr. Punch- Gabriella Smith
Doll- Rebecca Oslacky
Fannie- Kylie Hernandez
Annie- Zoey Natal
ENSEMBLE
Renee Montgomery (U/S Miss Andrews)
Tianna Richardson
Trace Brockway
Olivia Cuevas
Olivia Mahady
Madison Kennedy
Shannon Ricks
Mae Ashby
Rebecca Coveney
DANCE ENSEMBLE
Gabriella Smith
Laura Ortiz
Courtney St John
Valentina Lara
Sasha Paymer
Kerry O'Connor
Rebecca Oslacky
Ella Lloyd
Destany Sherman
Layla Morgan
Raquel Nigra
Ariah Todriff
KID ENSEMBLE
Kylie Hernandez
Zoey Natal
Lynnea Massaro
Isabel Cuevas
Preslyn Duke
Harper Updike
Original music and lyrics by Richard M. Sherman and Robert B. Sherman. Book by Julian Fellowes. New songs additional music and lyrics by George Stiles and Anthony Drewe. Co-created my Cameron Mackintosh. Original London Broadway credits: Produced by Cameron Mackintosh and Thomas Schumaker. Co-choreographer: Stephen Mear. Lighting design: Howard Harrison. Scenic and costume design: Bob Crowley. Co-direction and choreography: Matthew Bourne. Directed by: Richard Eyre.
Mary Poppins is presented through special arrangement with Music Theater International (MTI). All authorized performance materials are also supplied by MTI. www.mtishows.com