A 2024 Ritz Theater Theatrical Production
May 10, 11, 17 & 18 at 7:30 p.m. , May 12 & 19 at 3 p.m., May 18 at 2 p.m.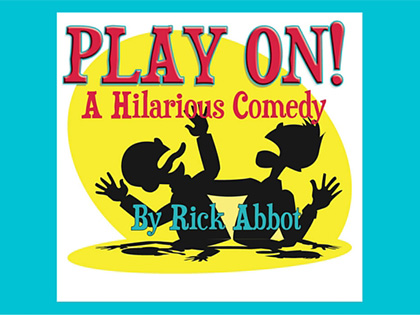 One plucky community theatre is about to produce a show called Murder Most Foul, a new "murder mystery play" with the same title as an Agatha Christie novel but with no relation whatsoever. The director/theatre manager, Gerry, thought producing the play was a good idea since the inexperienced playwright has agreed to let the company perform the show for no charge. However, she had no idea what disasters awaited her: the show is hilariously amateur, the "murder mystery" plot doesn't really have a murder, and to top it off the playwright keeps changing the story and script only two days from its premiere. Even the sound effects reap their share of laughter. Play On! is a hilarious love letter to community theater. Sponsored in part by the State of Florida, Department of State, Division of Arts & Culture, and by the Florida Council on Arts and Culture.
"Play On!" is presented in arrangement with Concord Theatricals on behalf of Samuel French, Inc. www.concordtheatricals.com
Title: "Play On!" 
Author Credits: "Play On!" by Rick Abbot